JP Morgan Asset Management is expanding its sustainable fund offering in Singapore.
The firm has filed an application with the Monetary Authority of Singapore (MAS) to launch its Emerging Markets Sustainable Equity Fund to retail investors in the Lion City, according to the regulator's records.
The fund is a Luxembourg-domiciled Sicav fund that was first launched in Europe in November 2019, as reported by FSA's sister publication, Portfolio Adviser. The firm launched a UK-domiciled version of the fund in December last year.
The new fund application with the MAS follows the firm's launch of a global fixed income sustainable fund in Singapore in September.
"Coupled with MAS guidelines, there has been an increasing awareness of sustainable investing, and hence many of our key distributors have been focusing on sustainable investing/ESG as a theme, similar to trends witnessed globally," Sherene Ban, JPMAM's Singapore and South East Asia CEO, told FSA previously.
The Emerging Markets Sustainable Equity Fund invests in the stocks of EM companies that have strong sustainable characteristics or demonstrate improving sustainable characteristics, according to its prospectus. These companies are selected through the use of the firm's proprietary research and third-party data.
The strategy, which is run by portfolio managers Amit Mehta and John Citron, also excludes unsustainable sectors, including weapons, tobacco and gambling, and apply proprietary exclusions based on internal research.
The fund may invest in small companies and China A-shares via the Hong Kong-China Stock Connect, it added.
China accounts for the largest geographic exposure of the fund (31.4%) as of the end of January, while its largest sector allocation is in financials (25.3%), according to its fund factsheet.
The Emerging Markets Sustainable Equity Fund's top 10 holdings, region breakdown and sectors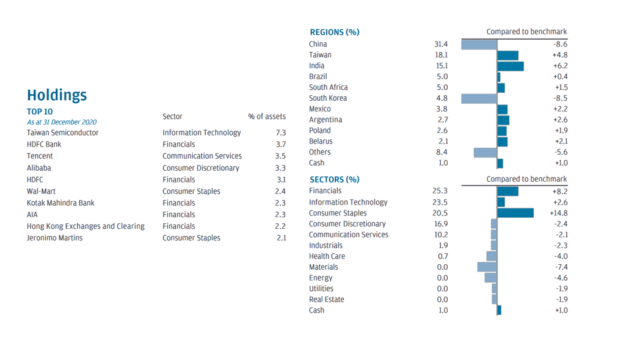 The Emerging Markets Sustainable Equity Fund vs category average and benchmark since inception