Harvest Global Investments, the wholly-owned subsidiary of Beijing-headquartered Harvest Fund Management, will be listing its first ESG ETF in Hong Kong on 10 March, according to a statement from the firm.
The Harvest CSI 300 ESG Leaders Index ETF has also been added on Hong Kong's Securities and Futures Commission's (SFC) list of ESG-approved funds, which include products that meet ESG disclosure requirements aimed at countering greenwashing, according to SFC records.
The product will track the performance of the CSI 300 Harvest ESG Leaders Index. According to the firm, it should provide investors exposure to the top 100 high quality listed Chinese companies identified by Harvest's proprietary ESG research framework.
Harvest has an ESG team that is comprised of 10 fundamental and quantitative analysts, led by Thomas Kwan, the firm's chief investment officer.
The firm aims to raise $100m for the ETF within six months' time, according to Kwan.
"Since 2020, the pandemic has served as a wake-up call on sustainability issues and drives demand for sustainable investing in the global investment community. As foreign investors allocate to the A-share market to capture China's growth opportunities, sustainable investment strategies are desired, especially among European and US institutional investors," Kwan told FSA.
"Meanwhile, we see China's transition to quality growth and commitment to 2060 carbon neutrality bring both opportunities and challenges to investment in A-shares. Chinese companies are expected to act on ESG issues such as emission reduction and climate change.
"We have also witnessed increasing focus on listed companies' corporate governance from regulators. Success and failure of companies' ESG initiatives would be eventually priced into asset prices," he added.
Besides the ETF, the firm has several other ESG strategies in the pipeline to cater to escalating demand for sustainable investments, Kwan said.
The CSI 300 ESG Leaders Index's sector breakdown and top 10 weightings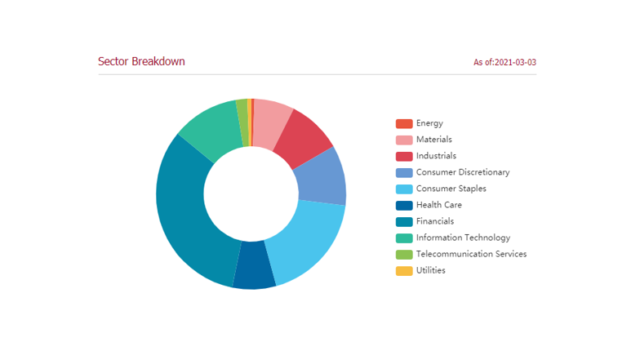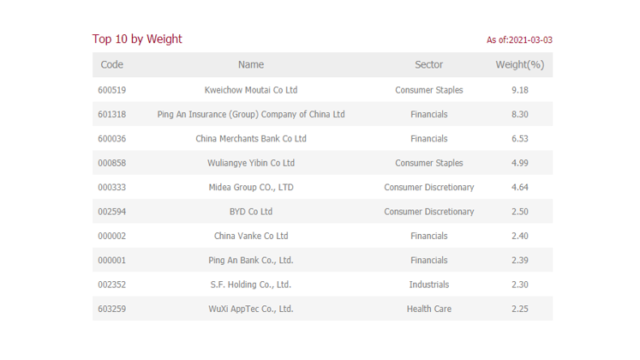 This will be the firm's second ETF listed on the local bourse. The first is the Harvest MSCI China A Index ETF, which was launched in October 2012, having assets of HK$70.49m ($9.1m), according to the latest data from Hong Kong Stock Exchange.
Besides ETFs, the firm has nine SFC-authorised mutual funds in Hong Kong, with two of them managed by its parent via the Hong Kong-China Mutual Recognition of Funds (MRF) scheme