Money has been flooding into climate-themed funds at a record pace across the world, with assets nearly doubling over the past year.
In the US, total money in climate mutual funds and ETFs hit $31bn at the end of 2021, a 45% increase from the roughly $22bn a year earlier, according to a Morningstar report, Investing in Times of Climate Change – A Global View, published Wednesday.
During the year, investors poured $13bn into those funds, representing a 43% increase from 2020, the company reported. More than half of that money, $7.2bn, flowed into clean energy and tech funds, which account for the largest share of total assets, at $18.8bn, or 61% of the climate fund category.
The report comes as the number of products on the market has exploded and shareholders have put increasing pressure on public companies to address their carbon-related risks. Regulators, including the Securities and Exchange Commission and Department of Labor, have also recently taken steps that could drive more interest in climate-related investing.
Globally, assets were $408bn across 860 climate funds at the end of 2021, about double the amount a year earlier, according to Morningstar.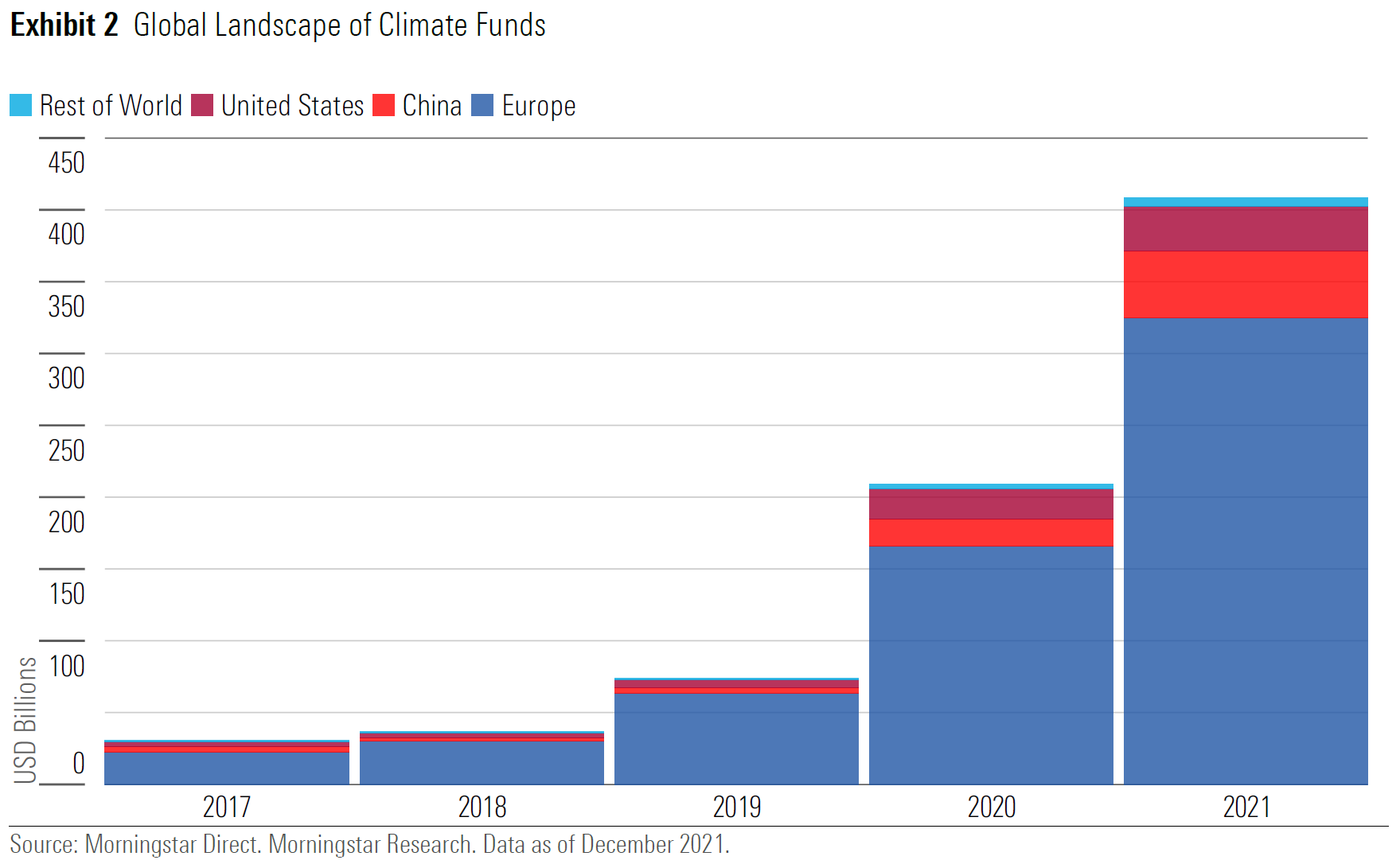 "The year 2021 saw major development in the climate funds universe globally, but especially in Europe. The introduction of the Sustainable Finance Disclosure Regulation in March ratcheted up the demand for innovative investment strategies incorporating climate considerations," Morningstar's report noted.
"Recent improvements in climate-related data empower asset managers to better understand and interpret the climate profile of companies and countries and, as a result, design strategies that meet clients' needs and preferences."
The biggest US climate funds as of December 2021 were the iShares Global Clean Energy ETF ($5.6bn), First Trust Nasdaq Clean Edge Green Energy ETF ($2.8bn), Pax Global Environmental Markets ($2.7bn), Invesco Solar ETF ($2.7bn) and BlackRock US Carbon Transition Readiness ETF ($1.6bn), according to Morningstar.
The report includes products that are specifically marketed as climate funds, excluding those that might have similar holdings but are not labeled as climate-related investments. The products included words such as "climate, carbon, transition, green and clean energy, or environmental funds with a strong focus on climate-related issues." Morningstar examined flows and assets across five subcategories: low carbon, climate conscious, green bond, climate solutions and clean energy/tech.
Although new money poured in across each of the climate-fund categories, the big winners for total assets globally were climate solutions ($106bn) and climate-conscious ($105bn) products, both of which ballooned past clean energy and tech (about $90bn), becoming the largest subcategories.
"Low-carbon funds provide the greatest shield from carbon risk but offer little in the way of climate solutions. Conversely, climate solutions and clean energy/tech funds offer high exposure to climate solutions but also currently carry high carbon risk," the report noted.
"Many of these funds invest in transitioning companies that operate in carbon-intensive sectors such as utilities, energy and industrials and that are developing solutions to help reduce their own carbon emissions and that of others."
By region, Europe remained by far the biggest market for climate funds, representing more than three quarters of assets globally at the end of 2021, according to the report. One notable change, however, is that China surpassed the US in climate-fund assets, becoming the second largest market in the world. China's climate-fund assets more than doubled, reaching the equivalent of $47bn, compared with the US's $31bn.
Additionally, climate-fund assets in the rest of the world nearly doubled over the year, reaching $6.3bn, according to Morningstar.